Fun Times at Our Place @ Willunga Hill
This is Our Place @ Willunga Hill.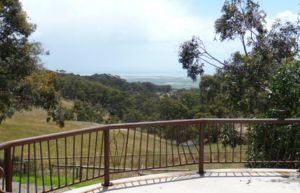 Do you remember the fun times we had at Our Place on Willunga Hill - the Tango, the Tour Down Under.

On Saturday 22 January 2011 Kick It To Me Events offered what they considered to be the best way to enjoy the event, with an exclusive cocktail function at Our Place (perfectly poised at the top of Willunga Hill).

Guests traveled in air conditioned comfort from Adelaide to Willunga and experienced a full day at this delightful town within the McLaren Vale region.

They enjoyed wine tastings at McLaren Vale before heading onto Our Place for a cocktail function that left them talking for months.

Our Place hosts are Willunga locals Anna & Andy, both who are passionate about spreading the secret of the region's quality food and wine. It is rather useful also, that Andy & Anna are incredibly talented at producing delectable dishes and have the fine art of hosting with warmth down to a tee.

An abundance of gourmet finger foods and quality local wine was served over the course of 4 hours. Guests were able to follow the action of the race on the large screen and mingle with fellow enthusiasts in air-conditioned comfort. Did we mention that all this was perfectly positioned for the Skoda King of the Mountain at Willunga Hill? Amazing!

Guests only dilemma was to applaud with wine in one hand and an Italian gourmet delicacy such as 'Polpettini' in the other.

...book your fun time now
Our Place Recipes
Our Functions
Our Service
We tailor Our Place to your needs and touches..

Prices include use of music system, wireless microphone, projector, setting up of room, and use of in house decorations.
Phone Numbers:
+61 417 879 551
e-mail to:
info@willungahill.com